Thursday, September 3, 2020
Posted

By

Matthew Moyer on

Thu, Sep 3, 2020

at

11:30 AM

click to enlarge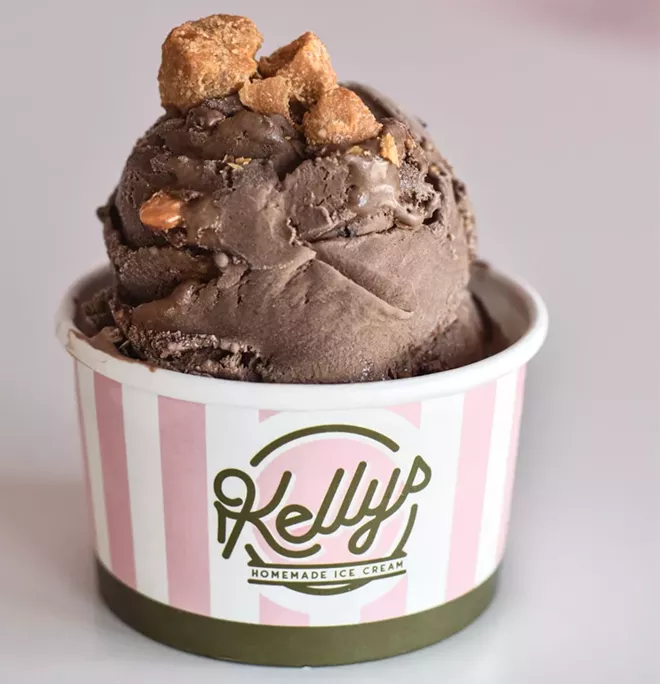 Midnight Crunch.at Kelly's Homemade Ice Cream
Kelly's Homemade Ice Cream in Audubon Park has unveiled two new flavors for September to cool you down for the balance of this summer: Midnight Crunch and the "limited edition" Reverse Ore-Dough.
Midnight Crunch – a mix of dark chocolate peanut butter ice cream with fudge and Butterfinger pieces – will be available all month. But Reverse Ore-Dough – chocolate ice cream, golden Oreos, chocolate cookie dough and white chocolate chips – will only be offered for one day, Monday, Sept. 21.
Additionally, Kelly's is bringing back four exclusive flavors from days of yore for September – Unicorn Tracks, German Chocolate Cake, Cherry Walnut and Rose Jam.
Head over here for info on hours of operation and curbside options.
_
Please follow CDC guidelines and Orange County advisories to stay safe, and please support this free publication. Our small but mighty team is working tirelessly to bring you news on how coronavirus is affecting Central Florida. Please consider making a one-time or monthly donation. Every little bit helps.
We welcome readers to submit letters regarding articles and content in Orlando Weekly. Letters should be a minimum of 150 words, refer to content that has appeared on Orlando Weekly, and must include the writer's full name, address, and phone number for verification purposes. No attachments will be considered. Writers of letters selected for publication will be notified via email. Letters may be edited and shortened for space.
Email us at feedback@orlandoweekly.com.